The remembrances we leave keeps the spirit of our loved ones alive. The loss of a memorial vase can be devastating for a family trying to pay respect at the sacred ground of a gravesite. One of the most attacked items in cemeteries across the nation are memorial & cemetery vases. Robbers are taking them by the hundreds from cemeteries in almost every city, every day.  It is unnecessary to use metal for memorial vases and highly increase the possibility of the vase being stolen. The ForeverSafe™ Vase is a beautiful alternative to susceptible metal counterparts.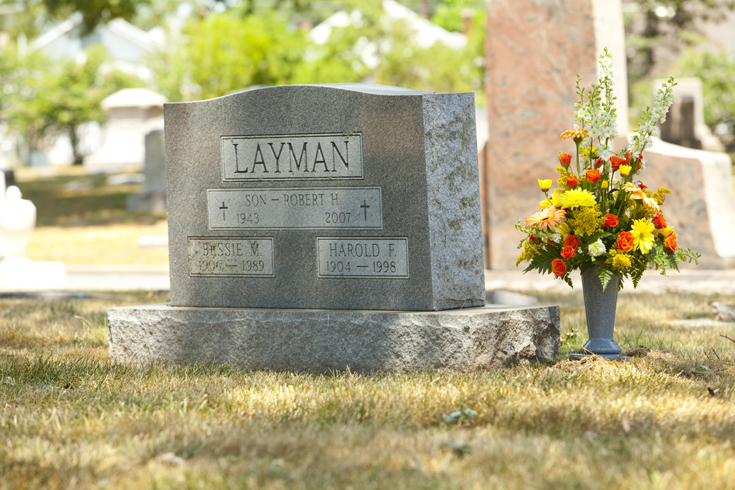 Theft Deterrent Replacement Cemetery Flower Vases

ForeverSafe™ Offers Vase & Canister Sets and Replacement Flower Vases
Placing memorials at a gravesite is a timeless tradition. Why should thieves be rewarded for desecrating it? Let's stop this thoughtless behavior one cemetery vase at a time. Introducing ForeverSafe™ Cemetery Vases by Granger Plastics. ForeverSafe™ Cemetery Flower Vases offer a quality alternative to theft-prone metal cemetery vases.
ForeverSafe™ Occasional Vase
The ForeverSafe Occasional Cemetery Flower Vase Collection is a line of spiked vases that are reusable, durable, beautiful and designed for a variety of purposes.
The ForeverSafe Occasional Vase is the only high quality, durable, Cemetery Flower vase that allows for attractive decorative use without requiring the expense of a cemetery vase cannister.
| | |
| --- | --- |
| | Assembly of the Occasional Vase. The Cemetery vase that does not require a cannister. |
ForeverSafe™ is the name you trust for high quality replacement cemetery flower vases when families are hesitant to replace with bronze or other precious metals, which are being targeted by scrap metal thieves all around the country. But what about the immediate need of having a vase stolen or families that would like to place flowers at a grave with no vase? The ForeverSafe Occasional Vase immediately solves these issues.
| | |
| --- | --- |
| ForeverSafe Occasional Vase is easily assembled for use nearly anywhere! | |
ForeverSafe™ Occasional Vase Features
Vase able to stand alone in service
Can be used with the stake graveside
Immediate solution to a vase need
Allows for a neat uniform look in cemetery
Stake easily assembled
Impervious to the elements
Reusable
Available in many colors
For more information on ForeverSafe Vases, please feel free to visit:
ForeverSafe Vase
www.foreversafevases.com
Request Cemetery Vase Info

ForeverSafe™ Categories
Related Links
Granger Plastics is a proud and distinguished memeber of the ICCFA (International Cemetery, Cremation and Funeral Association). Since 1887, The ICCFA has grown to more than 7,500 members in the fastest growing assocation in the industry. Membership in the ICCFA includes numerous leading cemeteries, crematories, service organizations and students.

Granger Plastics is also a proud member of The Catholic Cemetery Conference. The Catholic Cemetery Conference was founded in 1949 and is the oldest and largest Catholic cemetery association servicing Catholic cemeterians nationally and internationally.